Best Spotify Playlist Downloader #2: Sidify Music Converter
Don't get confused by its name. Sidify Music Converter is not only an application for music conversation but also for music downloading. Sidify is a pioneer in Spotify music downloading field and launched its first music downloading software in 2013. This Spotify Playlist Download is able to download playlist and individual songs from Spotify without premium account, which could save you hundreds of money.
In addition, there is no loss of quality during the conversion process and it can retain 100% quality of original Spotify tracks. It can also convert the track in several formats like MP3, AAC, and FLAC so that you can easily play your favorite playlist on different devices like iPhone, Android, iPad or Smart TV. Currently, tt can be run on both Windows and Mac computers.

World's 1st Spotify Playlist Downloading Software
No Spotify Premium account needed to get started with download.
Much Faster downloading speed than other Spotify downloaders.
Get a variety of output formats for better sharing.
No loss of quality and at the same time with high conversion accuracy.
Upload downloaded Spotify playlist to iCloud, OneDrive, and Google Drive.
Send or share the converted tracks via email or burn Spotify playlist directly on a CD.
User interface is very smooth and user friendly.
436,825 people have downloaded it
How to Use Sidify Spotify Playlist Downloader
Step 1. Download and install Spotify App in your computer as it is required before running Sidify Spotify Music Converter.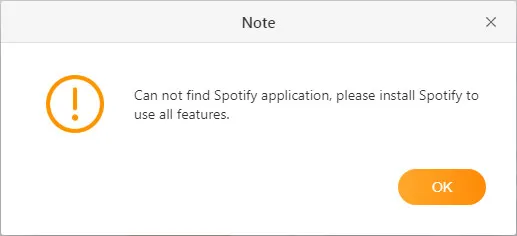 Step 2. Lanuch Spotify App on the computer and log in free or premium Spotify account. On the left side, select the options to unfolder the playlist. On the right side of each playlist, three dots will appear; click on the dots. From the drop-down menu select "Share" followed by "Copy Playlist Link".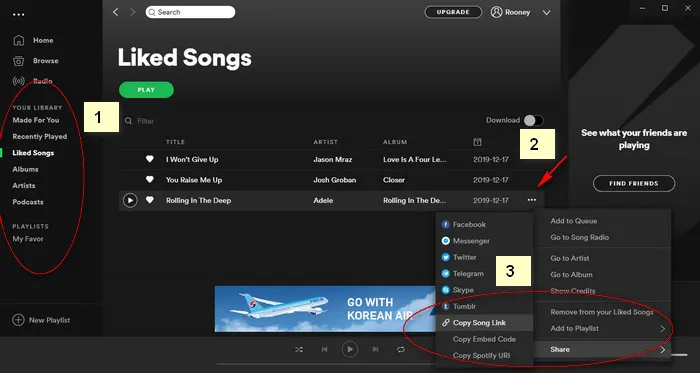 Step 3. Open Sidify Spotify Music Converter, paste the playlist link in the search bar. Click on the "+" button to enable the program to analyze the Spotify playlist link. After the download link is parsed successfully, you can see the artist, name of the track, album, and the duration. Click on "OK" to close the window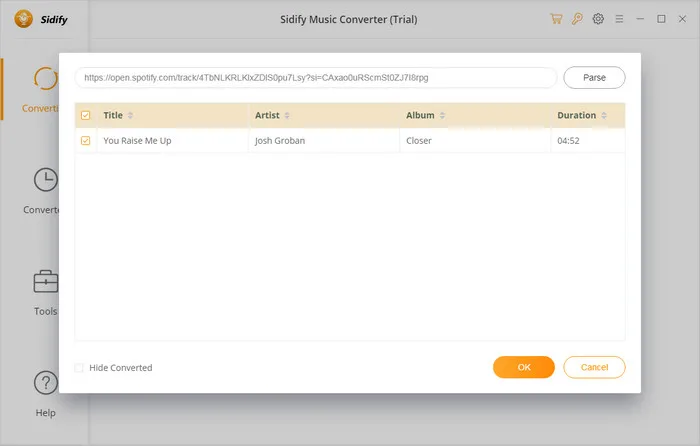 Step 4. Select "Convert" to start the downloading process. A progress bar will appear on the screen to indicate the downloading process.
Step 5. After it is completed, the downloaded music can be found in the "Converted" folder. Now you can upload the downloaded music to cloud storages like OneDrive or Google Drive, burn it to a CD/DVD, or export the music to iTunes library.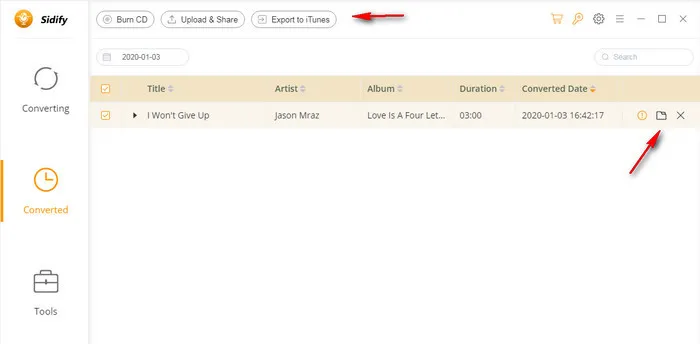 Note: The normal format of this software is m4a. In case you want to change the format, then browse to "Format Converter" under "Tools" to select the format of your choice (MP3/FLAC/WAC/OGG). Actually, you can directly download Spotify playlist into MP3 at the step 3 Settings.