Can you download music from Spotify without Premium? Before getting to the question, let's give a breif introduction of Spotify. A few years ago, the best music streaming service, Spotify was launched. Within a short amount of time, it gets popularity among a hundred million subscribers. Its versatile quality and extraordinary features place it at the top rank in the digital marketing world. Spotify got all the prevalence among music-lovers because of its individual policies. In addition to that, it is an excellent music streaming service because one can discover new music in this app very easily. Moreover, it supports all speaker systems. You can also use this service for free. Even with the free version, you will get most of the features that you want.
Assume you had a large list of songs on Spotify and plan to download those music to a computer for offline listening or backup. Unfortunately, you don't have a spotify premium account. So you might be wondering if it is still possible to download music from Spotify without a premium account? The short answer is a big YES.
Part 1: Spotify Music Download Option (Free vs Premium)
Before downloading the songs, it is essential to open the Spotify account. You can sign up the account with personal mail or by connecting social media account. Many times, we prefer to join a free membership combo, then skip the premium step and avoid the monthly subscription charges. However, the Premium account allows the users to enjoy unlimited pieces of music without any interruption of unnecessary advertisements. Spotify is probably the most famous music streaming service ever. Spotify has millions of active users & subscribers all over various countries. And you can download music to computer, Android or iPhone for offline playing without internet access.
However, download option is only available in Premium account. If you are trying to download music from Spotify with a free account, you will get an warning messag, saying 'Downloading is a Premium exclusive feature. Get Premium'. If you are not interested in creating a premium account, then it is absolutely OK. There are still a few ways you can use to download Spotify music without Premium account.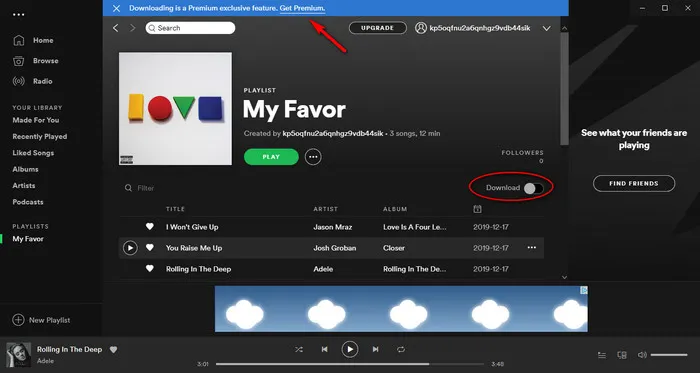 Part 2: Download Limitations in Spotify Premium Account
The premium service subscribers of Spotify can download up to 10,000 songs. If you receive a message informing that you have reached your download limit, then you have to delete previously downloaded songs. At least 1 GB of space is recommended to download new songs. It also ensures that the device is not in sleep mode. Moreover, the Spotify users have to go online at least once in 30 days. If you fail to do so, you can lose access to all your downloaded songs.
Point to be noted that albums and podcasts could not be downloaded on a desktop because Spotify doesn't give access to play downloaded music on other devices. Due to this copy protection, it becomes a severe problem for some people. Hopefully, there is some useful solutions around to help you download music from Spotify without Premium. Most importantly, no download limit! Please read the following guide to download unlimited music from Spotify!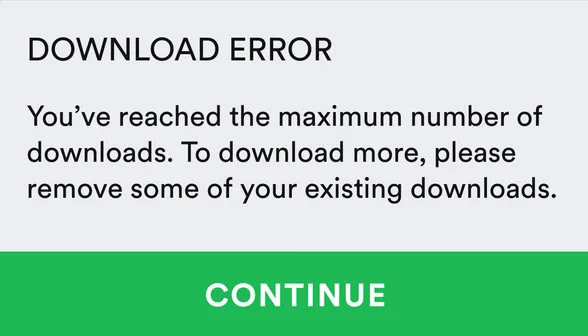 Part 3: How to Download Music from Spotify without Premium Using Spotify Music Downloader
Spotify Music Downloader is an essential software to help you download music from Spotify at high speed and converts downloaded music to MP3/AAC/FLAC. There is no download limitation within the software. The only requirement is to get the correct link of target song or playlist. In addition, it allows the users to customize the settings for downloaded songs, such as sample rate and bit rate. That's why a lot of people use it during music downloading process due to its reliability. Also, This Spotify Music Downloader has a neat interface and the downloading speed is breakneck. Currently, it is the best app we could find to download music from Spotify without premium account.
Please check the following steps to download unlimited music from Spotify with a free account.
Step 1. Install and Open Spotify Music Downloader
At first, download Spotify Music Downloader from authentic link shared in below and install the latest version of the software on a PC or Mac. Before proceeding to the download process, you have to sign up a Spotify free account and install Spotify app on the computer.
Step 2. Copy Music Link from Spotify App
In order to download music using Spotify Music Downloader, you have to find the link to target song or playlist. Fortunately, it is super easy to do that. Taking playlist for example, open Spotify app on your computer and go to PLAYLIST section. Rigt click on a target and find 'Copy Playlist Link' from Share tab. Now the link to that playlist is copied to clipboard. This also applies to individual songs.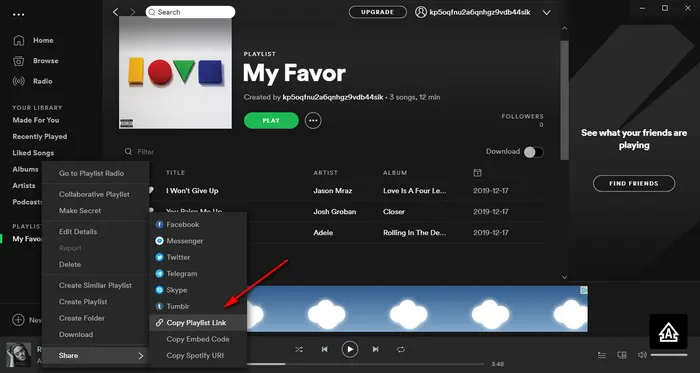 Step 3. Parse Spotify Link
Open Spotify Music Downloader, past the link in search bar and click the plus (Add Tracks) button to let the app start parsing the Spotify link. Wait for 1-2 minutes and all songs contained in that playlist will be shown on the screen. In default, all songs will be selected. If you want to remove some of them, just uncheck the box near the name.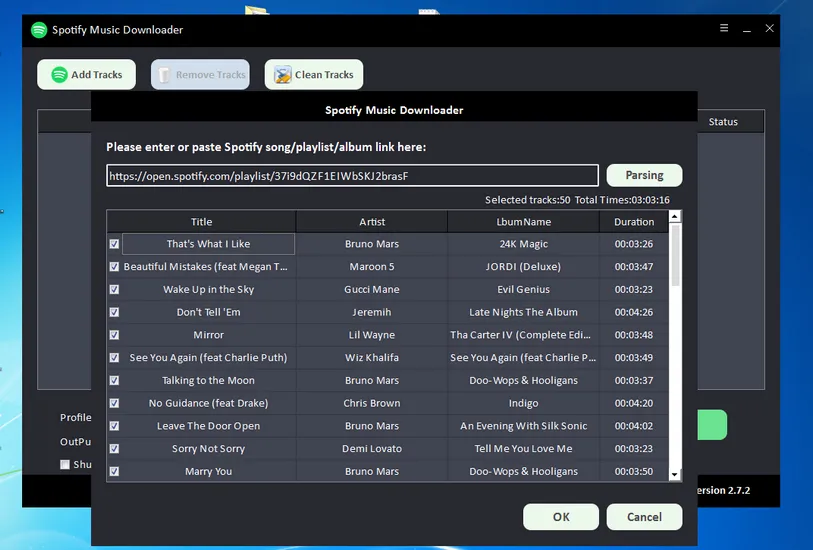 Step 4. Start Downloading Music from Spotify without Premium
On the lower left, select the Setting... button. After that, you can choose the output format MP3. You can choose the converting speed, output folder, and output quality. After following all the steps mentioned above, select the Start Button. It is just right at the bottom. When the download is finished, all music will be moved to Output section. And you can click the folder icon to open the downloaded folder on local drive.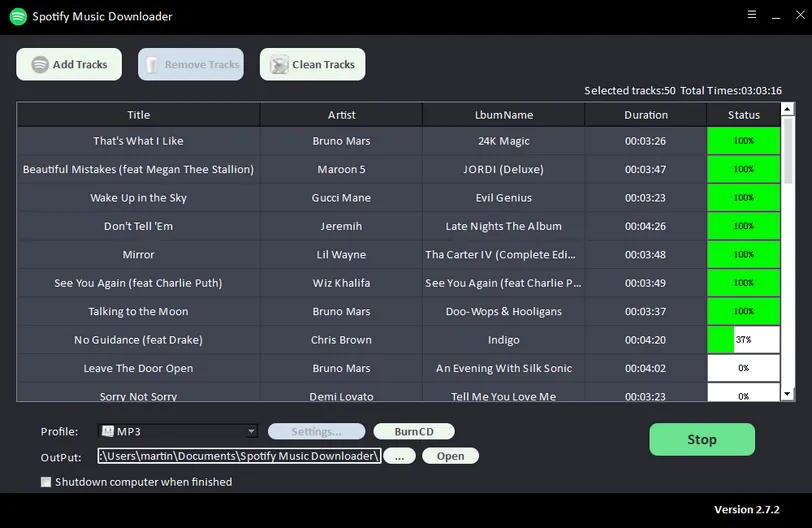 Downloading music is totally free with this method and most importantly there is no limitation about download. This can be download under a free Spotify account. So it is our most recommended solution to download music from Spotify without Premium account.
Part 4: How to Download Music from Spotify without Premium Using SMD
SMD is short for Spotify Music Downloader and it is an open source projected hosted on GitHub. It has a command line interface as well as a beautiful GUI. However, there is no binary package available, which means you have to build it yourself or install it from command line. Currently, it supports downloading Spotify playlist, songs and album. Besides, it can also download music from YouTube and Apple Music.
Please follow these easy steps so you can download and convert Spotify songs to any format without premium account. The output format can be MP3, FLAC, WAV or AAC.
Step 1. Type the following commands on a Mac or Linux. On Windows, you have to install a virtual machine first.
pip3 install PyQtWebEngine
sudo apt-get install python3-pyqt5.qtwebengine
Step 2. The installation process takes about 10 minutes. After that, make the file executable via following command:
chmod +x main.py
./main.py
Step 3. Get and copy Spotify link for song, playlist or album. Then type this command to start the downloading process:
./main.py -ss "Shared Spotify link "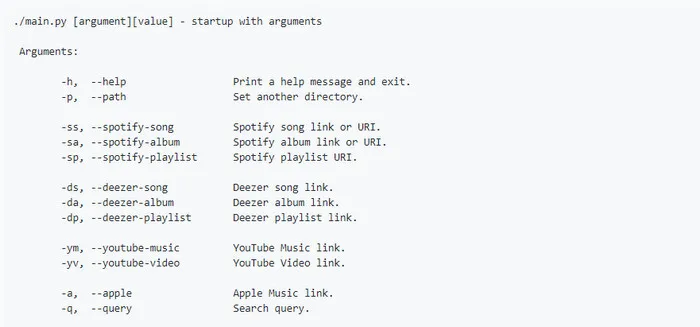 The above screenshot shows all commands for downloading music with SMD. This is a great add-up for those people with advance computer skills. You can write a batch script to download multiple songs from Spotify with Premium account.
Part 5: How to Download Music from Spotify without Premium Using AllToMP3
AllToMP3 is across platform Spotify music downloader that supports Windows, Linux, and Mac. It is also a free open source project like SM but it has binary download so you don't have to compile the program for installation by yourself. Actually, it is more than an Spotify music download because it also supports downloading music from YouTube, SoundCloud and Deezer. This converter is very useful as the users can easily install the free-version. Follow these steps to download music from Spotify without Premium using AllToMP3 app.
Step 1. Download the installation file from its offical website. The download file is over 100MB so it could take several minutes to finish the download.
Step 2. Open the app after installation. If it failed to run, then please turn off anti-virus software on your computer. Don't worry. It is 100% safe to use..
Step 3. Past the Spotify song/playlist/album link into the search bar; and then it starts to parse the link automatically.
Step 4. There is a circle at the left side or music/playlist/album name, which indicates how much percent it is completed. After that, click the folder path under search bar to open the downloaded music folder.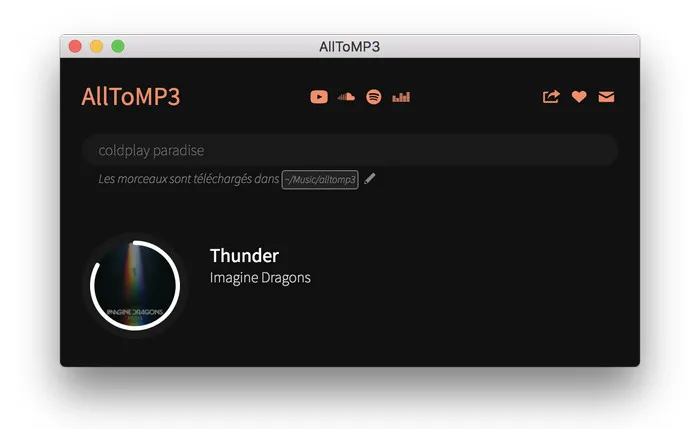 Concluding Note
If you desire to download music from Spotify without Premium account, then the methods mentioned above are perfect for you. With the help of these music downlaoders, avoid all the problems you face while using Spotify. If you are looking for the best music streaming services, then Spotify is ideal for you. Overall, this application is excellent and easy to use. Similarly, its quick music installation techniques with maximum accuracy make it the most preferable media among users.
Related Articles:
How to Download Spotify Playlist to MP3
Best Spotify Playlist Downloader in 2022
How to Download Music from Spotify
How to Transfer Spotify Playlist to Apple Music
How to Download Spotify Music to MP3