Spotify is currently the most popular streaming music provider. Spotify user can access millions of songs from Spotify remote servers. Most of the users maintain the songs in playlists and it is really hard to manage such a list. And sometimes, you just want to download the whole playlist for backup or offline listening.Is that possible?
Baisically, there are two types of accounts in Spotify: Free and Premium. However, the offline listening mode is only for Premium subscribers. Those who are paid users, you can download up to more than 3000 songs per device with 3 different devices. But Spotify Free users can never enjoy this great feature without an internet connection. You might have a great playlist in your account and want to download favorite Spotify playlist to other devices for offline listening. This guide will show you 4 best ways to download Spotify playlist.
Download Spotify Playlist Method #1: Premium Account
Downloading Spotify playlist is a built-in feature within Premium account. If you already subscribed a premium Spotify account, you can then easily download your favorite playlist into another devices for listening it offline. However, the step is different for mobile and desktop devic because there is a big difference for screen size. We will demonstrate this separately.
On Mobile (Android & iPhone):
Step 1. Make sure you are using a Spotify Premium subscriptions since downloading songs for offline listening is just for premium account. Your phone needs to be connected to a Wi-Fi network in order to download Spotify playlist. It is not permitted to download Spotify playlist via cellular data.
Step 2. Open Spotify app on Android or iPhone. If you have logged in, it will open up Spotify Homepage.If you have not logged in, tap on LOG IN, then enter your Spotify premium account.
Step 3. Tap on 'Library' at the bottom of the screen. Then tap on Playlist at the top of the screen. Choose a playlist from the 'Playlists' page that you want to download.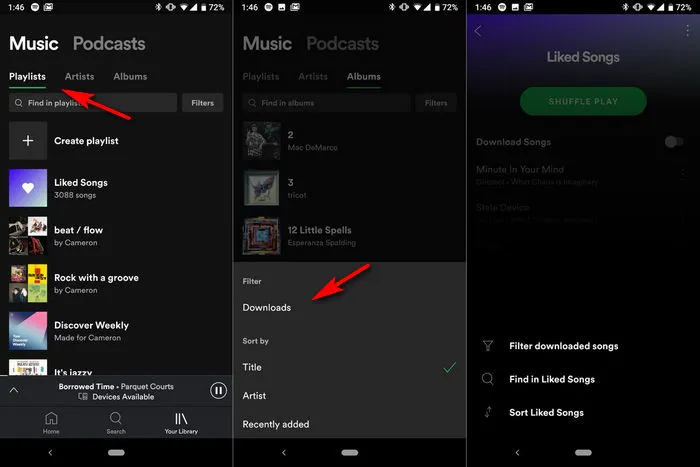 Step 4. Tap on the "Download" switch at the top-right corner.
That's it! You can now listen to Spotify music offline on Android or iPhone. Even when the phone is not connected to Internet, you can still open Spotify, navigate to Library tab, start enjoying favorite songs from downloaded playlist..
On Desktop (Windows & Mac):
Step 1. Make sure your computer is already connected to the internet to download songs.
Step 2. Double click on Spotify app icon to open it. If you have not logged in, sign in your Spotify account. If yes, you will be brought to the Homepage.
Step 3. In the 'PLAYLIST' section on the left side, click on the name of the playlist you need to download. However, you are not able to download albums on the desktop app.
Step 4. Click on 'Download' switch at the middle. Once a song is downloaded,you will see a downward facing arrow icon.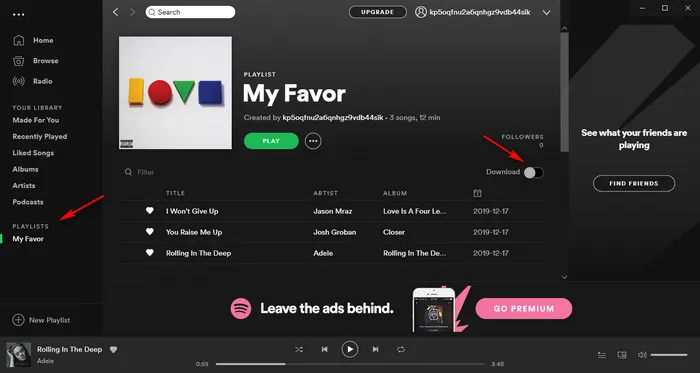 Download Spotify Playlist Method #2: TunesBro Spotify Music Downloader
Downloading playlist in Spotify is disabled in default for free account.And not everyone could afford the premium service billed at $9.99 monthly. If you are using Spotify free account, and you still want to listen favorite playlist offline, then Spotify Music Downloader will be a great help. With just a few clicks, Spotify playlist will be downloaded on your PC or Mac and you are able to convert the downloaded musicto MP3, AAC, or FLAC as you like.
Step 1. Software Download and Install
Download the installation file from this page and follow the instructions to install the software on a PC or Mac. The software opens up after installation. There is no need to install Spotify on the computer.
Step 2. Get Playlist URL
Just open Spotify web player in a browser (https://open.spotify.com) and right click the playlist name you want to download the music. From the pop-up window, choose Share -> Copy Playlist Link.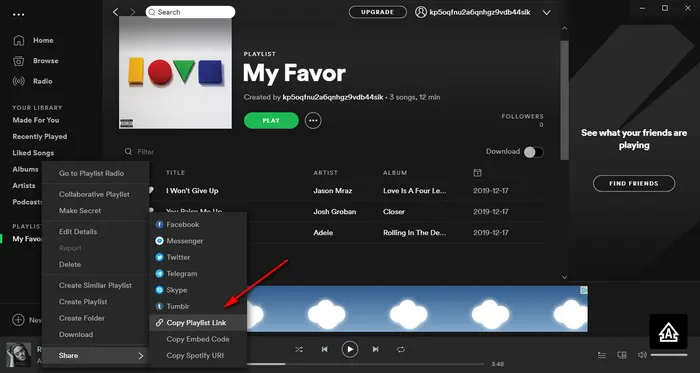 Step 3. Paste Spotify Playlist Link.
Please run Spotify Music Downloader and paste the Spotify playlist link by clicking the 'Add Tracks' tab. A few secods later, the program will parse the link and list all songs from target playlist.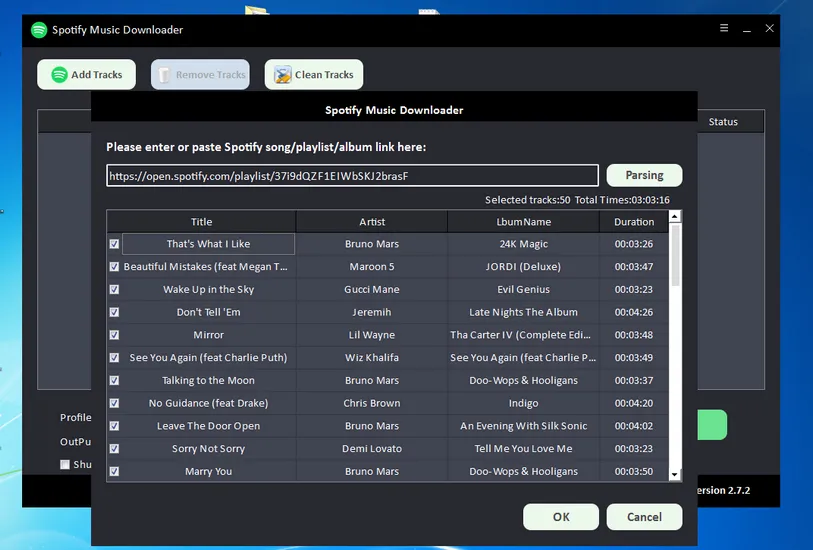 Step 4. Start Downloading Spotify Playlist
Click 'OK' and 'Start' button to let the software start downloading songs from Spotify playlist. You have to wait patiently for the download process if the playlist was huge. You will see all downlaoded music being moved to output folder. Click the folder icon to open the folder that saves the downlaoded song.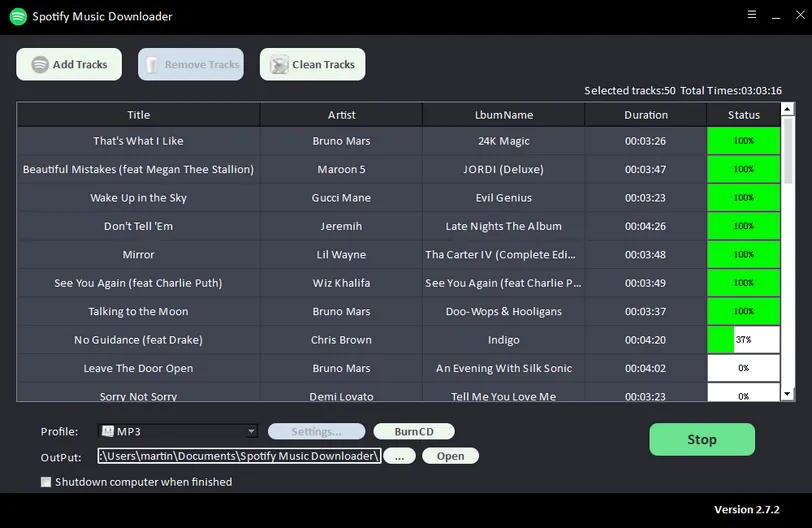 Step 5. Convert Downlaoded Spotify Music (Optional)
The songs will be downloaded in MP3 format by default. If you want to save it in another format, please stop the downloading task and choose the right format from Profile drop-down menu located at the bottom.
TunesBro Spotify Music Downloader has everything you need in order to enjoy the wonderful part of Spotify music. It can directly download Spotify songs or playlist quickly and it is also capable of converting them to user friendly formats so you can share or listen it on multiple devices.
Download Spotify Playlist Method #3: Tunepat Spotify Music Converter
TunePat Spotify Converter is another great solution for those who are Spotify free user, allowing you to download Spotify songs or playlists at a very fast speed. The tool can easily convert songs to common formats like MP3, AAC, FLAC or WAV with the original quality. Once you know about the software, follow these steps below to use TunePat Spotify Converter software.
All you need is to sign in your Spotify account on TunePat, add your playlist and then convert it into your desired format.
Step 1. Click on the icon and choose "Register" to open up the registration window. Then, just finish the registration process.
Step 2. Type in or paste the registration email and activation code into the popup window.
Step 3. Sign in your Spotify account. Click on Setting on the upper right corner and select the Output Format, the Quality as well as the Output Path.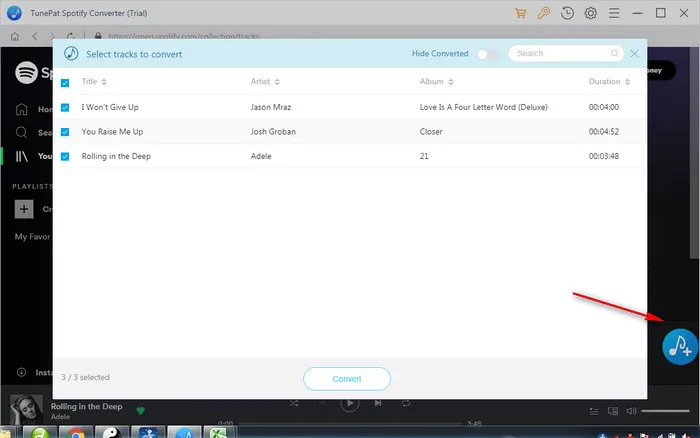 Step 4. Click on "Convert" button to begin converting your favorite songs to the chosen output format.When the conversion is completed, just click on the History icon to find out songs.
That's all of it! You have successfully downloaded your Spotify playlist with TunePat Spotify Music Converter software.
Download Spotify Playlist Method #4: KeepVid Muisc
KeepVid is a popular website for video and music download. Initially, it was well known for easily downloading video from YouTube but now it turns into a complete download package that can download both music and video from multiple soruces. To download music with Keep Music, you have to download and install the desktop app first. It allows users to download their Spotify playlist just with a few clicks even when it's a free account.
Step 1. Click above download button to get the installation file. Install it and open Spotify app after installation.
Step 2. Copy the playlist link from Spotify app as we described in Par 2.
Step 3. Head to 'Get Music' tab and choose 'Download', paste the link into the text box and click on the Download button.
Step 4. KeepVid Music starts to analyze the playlist and try to find all music from the list. Once it is done, it will download all related music from YouTube.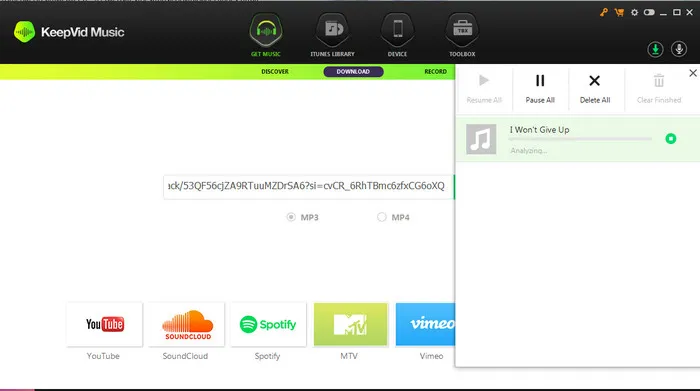 Verdict
Downloading Spotify playlist with a free Spotify account is not too difficult. The mentioned methods above are the best ways to download playlist from Spotify. It works on Android, iPhone, Windows PC and Mac. Another benefit for using third-party program is that it is able to convert downloaded Spotify music into MP3 or other common formats. So our recommendation for downloading Spotify playlist is Sidify Spotify Music Converter.
Related Articles:
How to Download Spotify Playlist to MP3
Best Spotify Playlist Downloader in 2022
How to Download Music from Spotify
How to Transfer Spotify Playlist to Apple Music
How to Download Spotify Music to MP3