If Spotify has been your most trusted partner in whiling away time when you are stuck in an apparently endless traffic snarl or killing time on a lazy afternoon, you must be wondering about the drawbacks and restrictions of playing your favorite chartbusters that you have downloaded on other media platforms. Although Spotify has sung its way to the top of the list of on-demand streaming music sites and boasts of the fastest expanding library along with the biggest user base, its restriction to control the use of its media content by customers and the use of DRM technology have become a bane for its patrons. That's why we collected all the details on how to download playlist to mp3 for offline usage.
Challenges Faced by Spotify Users
Only Premium and Family users can download Spotify playlists and albums to enjoy their favorite songs for offline listening or on other media devices. One can not simply save music to listen to it elsewhere offline or later. In other words, you can not play Spotify music outside of the Spotify app and play it on other devices offline (like Poweramp music player, Musixmatch or VLC) as Spotify uses Ogg Vorbis as their streaming format; this format is not supported universally by other devices or players. Read on to learn about the four powerful apps to record or download Spotify playlist to MP3 (DRM Free).
Solution 1: Download Spotify Playlist to MP3 via Spotify Playlist Downloader
Simply put, there are two different ways to get MP3 version of music from Spotify playlist. The direct way is via download and the indirect way is via recording. The former option is more preferred to download Spotify music without premium but only few limited choices available. The latter is a bit complex and has quality loss. However, there are many free tools for that. Both of the methods will be demonstrated in this article and we will go to direct download method first.
Spotify Music Downloader is an special type of computer software that can directly download Spotify playlist to mp3 so you can share and play on other devices. However, it is quite hard to find such one even with search engine. Fortunatly, our editors are working together and find out a poweful app to quickly download Spotify playlist to mp3 after hours of researching and testing.
Step 1. Install Spotify Playlist Downlaoader
Before get started, the very first step is to download the setup file and install the software on our computer. You can run it on Windows or macOS. To open this Spotify Playlist Downloader, you have to install Spotify app on the computer at the same time.
Step 2. Copy Spotify Playlist Link
Each Spotify playlist has an unique link attached to it. You have to find the link and copy it. You can see the instructsions from the following screenshot.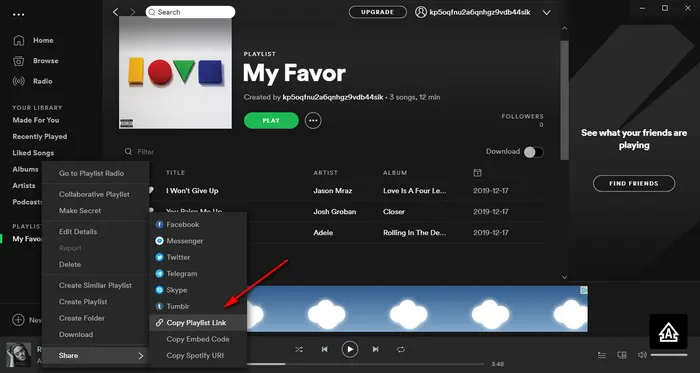 Step 3. Paste Spotify Playlist Link
Lanuch Spotify Playlist Downloader and paste the link into the program. Wait for the link to be processed by the program. After that, you will see all songs contained in that playlist with deatails.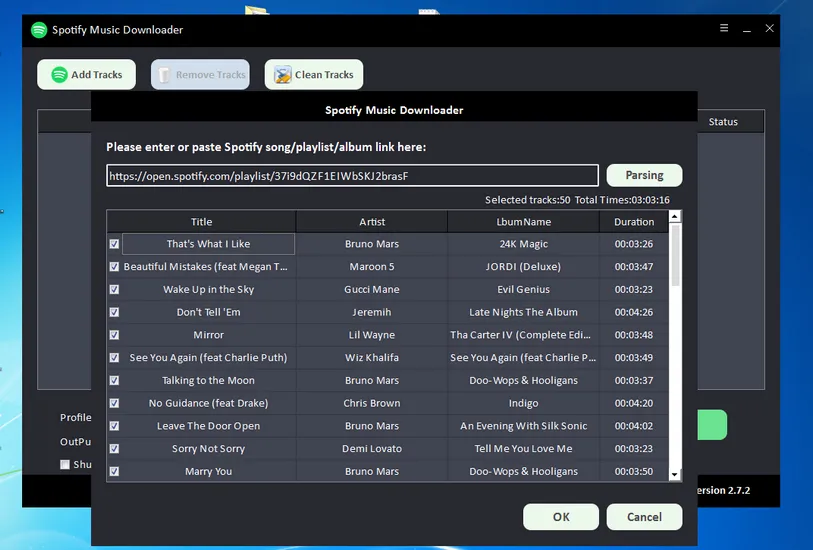 Step 4. Start Downloading Spotify Playlist to MP3
Click the OK button to let the app start downloading songs from Spotify playlist. By default, all download songs will be saved in MP3 format. You can see the downloaded music the Output folder. However, this takes time if the playlist is huge.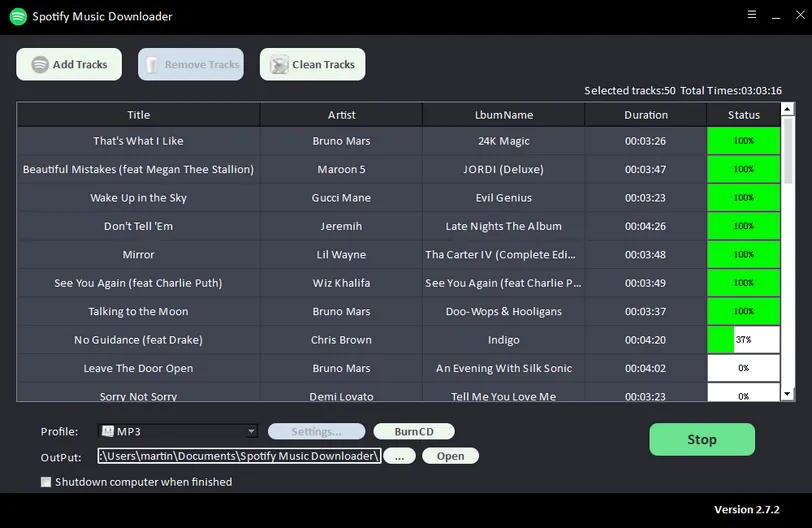 This is one of the best apps to download Spotify playlist to MP3. You can also use it to download Spotify songs to MP3. It is almost impossible to find another program that is better than this for Spotify music download.
Solution 2: Download Spotify Playlist to MP3 via Streaming Audio Recorder
Streaming Audio Recorder app lets you choose and record any digital audio source not only from Spotify but also from Pandora, Apple Music, Deezer, YouTube Music and many other resources at a single click. The recorder captures the music directly to M4A or MP3; it automatically removes or filters out the ads and divides the tracks while recording. It also fixes ID3 tags automatically. The app can fix a variety of information of the recorder audio, including, the title, year, artist, album, cover, and genre.
It can identify the music files in batches to enable you to save time during editing. You can manually edit the tags and metadata as it is one of the best ID3 Tag Editor; Additionally, it enables you to perform a wide array of functions such as adding and deleting ID3 tags in MP3 files, replacing characters, and renaming files for both single files as well as batches. The app uses a sound card to record audio and not Spotify; hence it would be wise to ensure that no other sound is playing in the background. Generally, it is an indirect way to download Spotify playlist to mp3. You need to follow a few easy steps to use the app.
First, launch the Spotify Audio Recorder. Next, you need to click on the "Record" button visible on the upper-left corner.? Select and play the Spotify music you want to download; the program will begin recording the music. You need to right-click on a recorded song to find or locate the recorded music. Select the option "Open in folder".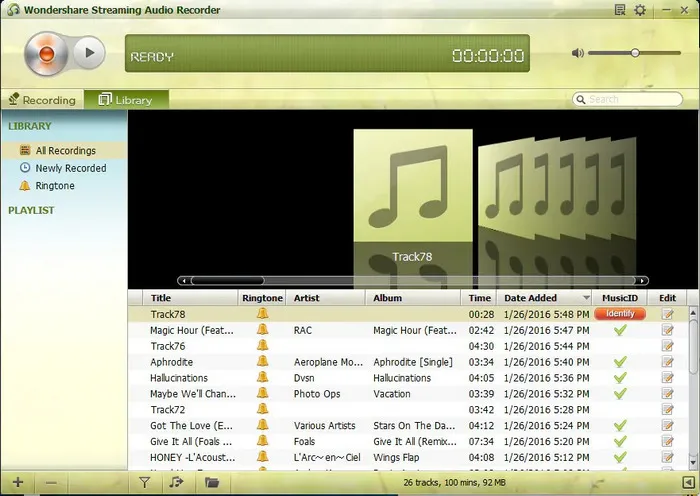 Although it is time-consuming to download Spotify playlist to mp3, the audio recorder uses a virtual sound card to record and ensures that the listener can enjoy high-quality audio sounds with a lossless audio file.
Solution 3: Download Spotify Playlist to MP3 via AudFree Music Downloader
AudFree Music Downloader all-in-one app can download Spotify playlist to mp3 as well as convert any music from Spotify to MP3, WAV, AAC, FLAC, M4A and M4B, and other common audio formats without any loss of quality. It removes ads and enables you to listen to all Spotify music offline at any time on any MP3 player such as PSP and Apple iPod. You just need to drag and drop a streaming track from Spotify;
AudFree downloads Spotify playlist to mp3 instantly and makes Spotify Premium free for the user. It can operate up to five times faster speed and download music in batches as it harnesses the DRM decrypting core. If you are seeking a more stable conversion process, you can choose the option of "1X". It preserves the original ID3 tags and metadata information such as number, track title, album, cover, artist, etc., and allows editing of output audio parameters like sample rate and bit rate. Factors that do not work in favor of the downloader are that it is not compatible with the Windows Store version of the Spotify app and comes for a price.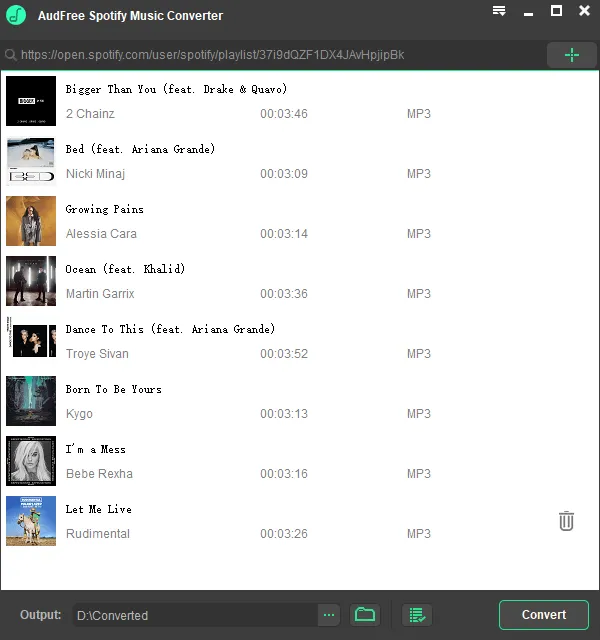 Solution 4: Download Spotify Playlist to MP3 via Apowersoft Audio Recorder
Apowersoft Audio Recorder allows you to record songs from streaming music sites as well as radio stations, in-game sounds or video platforms, audio chats and more. You can use it as a Spotify downloader to download any Spotify albums, playlists and songs; the app records the audio in MP3, WMA, AAC, FLAC, M4A, WAV, OGG, M4R, and AC3. The app is compatible with players or devices like Android smartphones, Windows Phone, iPhone, iTunes, Tablets, Chromebook, QuickTime, and Windows Media Player. After recording the audio, you can rename or add as well as edit ID3 tags to better organize your folder.
However, this is not a strightforward way to download Spotify playlist to MP3. And you have to play and stop Spotify music manually, and cannot customize the output song quality. In addition, Windows version is unable to recognize individual songs.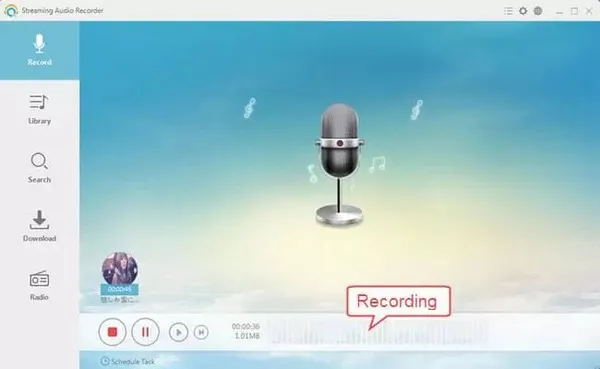 If you spend hours listening to old numbers or the latest hits but your Internet connection is erratic, or you do not want to eat into your data plans for mobile phones, you need to scour the Internet for reliable tools that download Spotify playlists for offline listening by a few clicks of the mouse. Let us introduce you to three efficient and easy-to-use Spotify playlist downloaders so that you can stay tuned anytime and anywhere.
As you can now download up to 50,000 songs from Spotify for offline listening, you can use the above apps to download Spotify playlist to mp3 and tune in to your favorite numbers on the go. The new limit enables users to download up to 10,000 songs on up to five devices; previously the limit was capped at 3,333 songs on three devices only. Don't let your musical ride stop; mute artists you don't like or discover new features like Spotify Connect. Watch this space to learn more about new and exciting features of Spotify.
Related Articles:
How to Download Spotify Playlist to MP3
Best Spotify Playlist Downloader in 2022
How to Download Music from Spotify
How to Transfer Spotify Playlist to Apple Music
How to Download Spotify Music to MP3