Despite having giants like Apple, Amazon, and Google as competitors to its own platform, Spotify still remains the No.1 online music streaming service in the world. Although there are free and premium versions of the service, the songs that you download can only be played within Spotify apps, not on any other media player. That's not only because the files are protected by DRM protocols but also because they're in a different format that's unique to this platform. Hence, it is not playable on other media devices.
This article shows you the basics of music downloading in Spotify, why to convert it into a more universal format like MP3, and what tools you can use to get your downloaded songs in this format so they can be played universally independent of Spotify platform. Please read on to know how to download Spotify songs to MP3 in great details.
Part 1: Spotify Download Requirements
According to Spotify official documentation, you can download up to 50,000 songs equally across 5 different devices as long as you have a premium account with them. The free version only lets you download podcasts, and only on tablets and smartphones. There's also a condition that states that you need to go online every 30 days in order to be able to continue your download benefits. You will also need to remain on Premium plan to keep the downloaded songs. The restrictions are tough, which is why people look for music downloaders that can download Spotify songs into MP3, which is easy to share and play on any media player.
Part 2: Why Convert Spotify Files to MP3?
The primary reason is to be able to bypass DRM restrictions so you can play your Songs on any device. Since MP3 is a much more universal format that the .obb files used by Spotify, getting a song in MP3 makes a huge difference because of the platforms that support this format. Another reason to get your files as MP3 is that they're more lightweight and easier to share via email and other channels. Another advantage is that you can convert these MP3 files into other formats in an almost completely lossless manner for playing them on other devices or burning them to a disk or drive.
Part 3: Download Spotify Songs to MP3 Using TunesBro Spotify Music Downloader
Currently, TunesBro Spotify Music Downloader is one of the best tools for downloading Spotify songs and playlist without premimum account and it is also able to convert downloaded Spotify songs into MP3 and other formats. It retains the metadata so you can still sort your artists and playlists after you download the songs. Once you've downloaded the trial version and registered the product, follow the steps shown below to download Spotify songs to MP3 format in five simple steps.
Step 1. Download Spotify Music Downloader
Spotify Music Downloader is currently available on all Windows versions including Windows 11. Please download the setup file and install the app on your computer like usual.
Step 2. Copy Link from Spotify Song or Playlist
Open Spotify music app on your computer and log into your account. Actually, no premium account is required for download, which is a great news for most of the people. Now, click on the playlist or song name and get the URL from share button.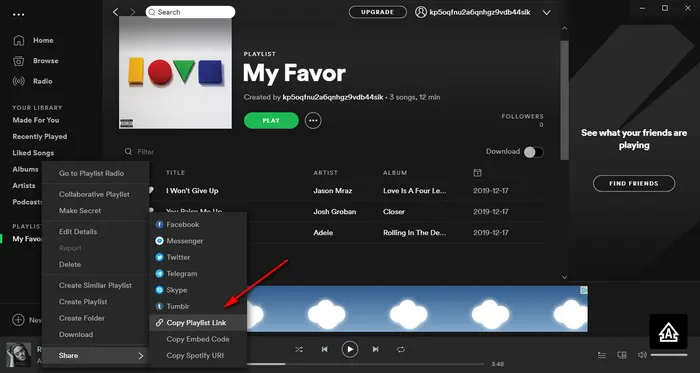 Step 3. Analyze Spotify URL
Paste the Spotify URL in search bar and the app will start to analyze the targe source of imported URL. 1-2 minutes later, you will see the music title, artist, album and duration.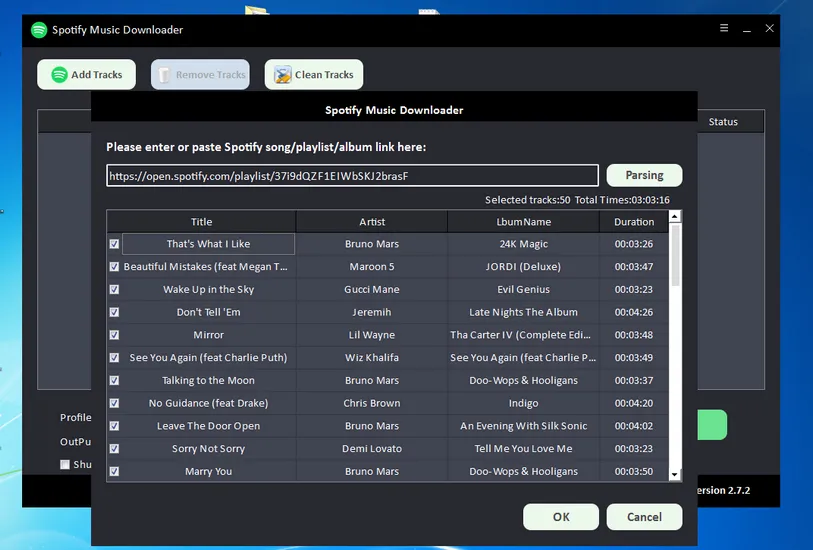 Step 4. Start Downloading Spotify Songs
Once you're done importing the songs and other tracks, choose your conversion settings, which include the output format and quality, and conversion speed. You can also specify the output folder and name it in the same window. In here, you don't need to do anything as the default format is MP3 Finally, click the Start button and wait for the files to be downloaded completely..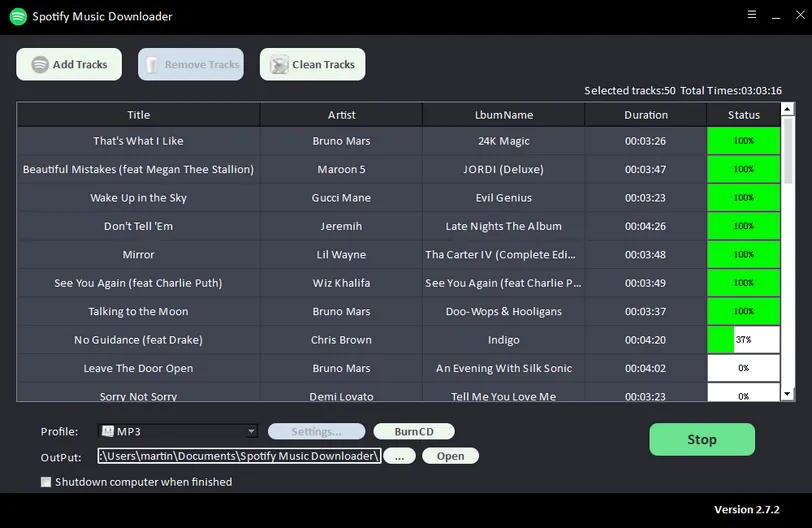 This music converter is almost the best tool available to download Spotify songs to mp3. If you don't like it, another tool that lets you do pretty much the same thing is OndeSoft, which is featured in the next section.
Part 4: How to Download Spotify Songs to MP3 Using OndeSoft Music Converter
Available for both major desktop OS platforms, OndeSoft Spotify Downloader matches Sidify, feature for feature whether you have a Premium or a free Spotify account. Again, you'll need to register the tool after downloading the free trial or buy directly before you can download and convert full songs, but the trial version lets you test out the product before you make your purchase. Once you're all set up, then you can start downloading Spotify songs to MP3 directly.
Step 1. Download the applications from this page and launch OndeSoft Spotify Music Converter after installation.
Step 2. Click the Add Files button in the toolbar on the top left or drag files and playlist from Spotify into the OndeSoft interface.
Step 3. Click the Options (gear icon) to set conversion parameters and specify the download location.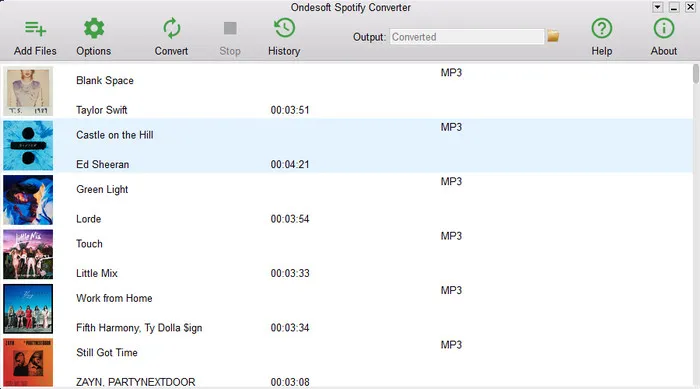 Step 4. Hit Convert at the top to begin the process and wait until all the chosen files are converted into your chosen format. You'll be able to see them in the target folder once they're done.
This tool is as functional as Sidify and will allow you to decrypt the DRM on the Spotify files so they can be enjoyed on any media player of your choosing. Yet another tool, showcased in the next section, is AlltoMP3, which works on different platforms and quite effective to download Spotify songs to MP3 in default.
Part 5: How to Download Spotify Songs to MP3 Using AlltoMP3
AlltoMP3 works with Spotify as well as other platforms like YouTube and SoundCloud. It is available for Windows, Mac, and Linux computers, and the major difference between this and the other tools featured in this article is that AlltoMP3 is open-source and, therefore, completely free to use. Here's how it works to download Spotify songs to MP3 with this amazing free tool.
Step 1. Download and install the application on Mac, Windows, or Linux.
Step 2. Go to Spotify, choose your playlist or track, and copy the URL.
Step 3. Toggle to AlltoMP3 and paste the copied link in the search box.
Step 4. The songs that are imported will be downloaded, converted, and stored in the /Songs library folder.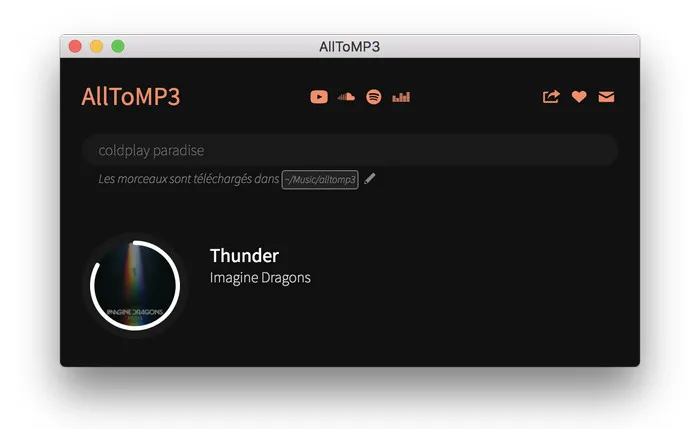 Summary
The final method doesn't work all the time for various reasons. In certain cases, a different version of the song might be downloaded, or the song might not appear in the output folder at all. That's why it's better to use a premium app to download Spotify songs to mp3. because it's more dependable and you'll get exactly what you select from Spotify. In addition, you'll get access to premium customer support if you ever need it. Try them all out and see what works for you to download Spotify Songs to MP3.
Related Articles:
How to Download Spotify Playlist to MP3
Best Spotify Playlist Downloader in 2022
How to Download Music from Spotify
How to Transfer Spotify Playlist to Apple Music
How to Download Spotify Music to MP3