Spotify is a popular platform singularly created for the purpose of music streaming . But despite being so popular for the size of its library and quality of music, downloading Spotify music to Mac can not be done that easily. In default, the download option is only available with Spotify Premium account. And there is no way to download music from Spotify without premium account. This is a big issue for all Spotify users with less budget.
So a lot of Spotify free account users are seeking a way to void the subscription fee. Hence, they can download the Spotify music for offline usage. Possible? After days of researching online, we finally got 4 affective ways to help you download Spotify muisc to Mac without paying a cent to Spotify. Please check out the steps for each method mentioned in below.
Download Spotify Music to Mac #1: Spotify Premium Account
While unlimited music can be streamed on Spotify, music can't be downloaded using the free account. But the rules change with the Spotify Premium account. Spotify Premium has more features to offer than the free account that includes downloading, which is enabled in default with Premium account. So if you signed in with a premium account, then you can download Spotify music to Mac without using third-party tools.
Open a wbe browser and go to Spotify official website. Click 'Premium' tab on the home page and sign-up a premium subscription plan priced at $9.99 per month. And you can also go with other available plans you are interested in.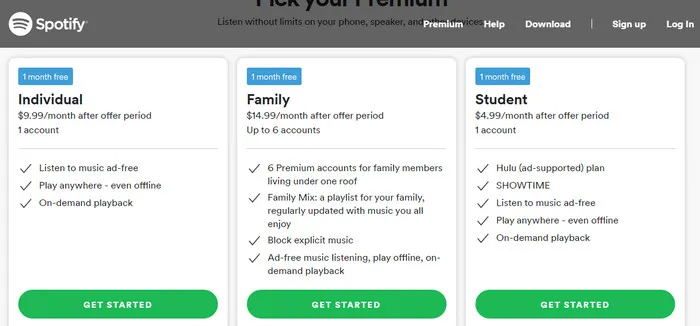 Launch Spotify app on Mac and login premium account. Navigate to left panel and click on the playlist or the song you want to download. Toggle 'Download' button to enable music download in Spotify. After that, Spotify app starts downloading the tracks one by one from selected playlist.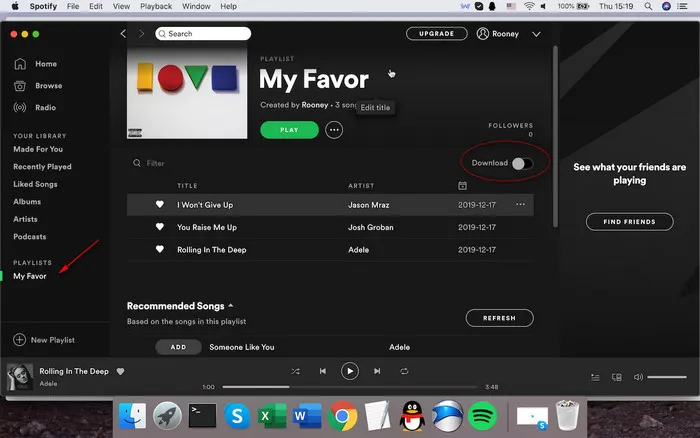 Where is the download location of Spotify Songs on Mac? Once the download is completed, go to Spotify -> Preferences and scroll down the settings page to unfold Advanced Settings tab, where you can see Offline songs storage menu, where downloaded Spotify songs are saved. The folder name is long and hard to remember. So you can change it to Desktop or Download folder on Mac by clicking the 'CHANGE LOCATION' button.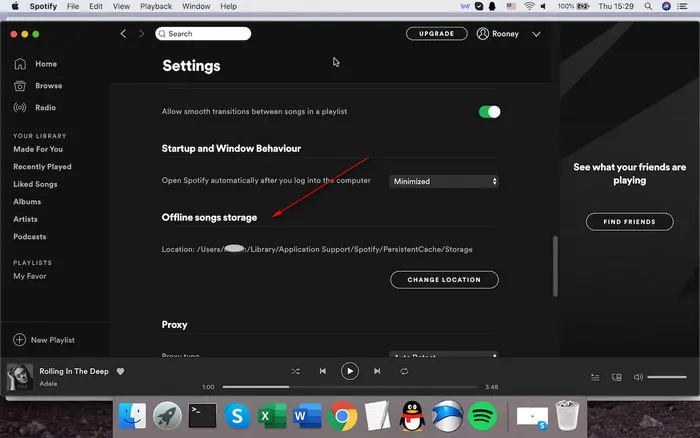 All songs downloaded within Premium account are DRM protected. It means you can only play those songs within Spotify app. And other media player is not able to play it because of protection. And not everyone can afford the subscription fee for premium account. That's why numerous people are asking if there is any way to download Spotify music to Mac without premium account. You can find the answers in below sections.
Download Spotify Music to Mac #2: Spotify Music Downloader
Spotify Music Downloader, as its name implies, is an usefu tool that download and converts Spotify music into the desired format so you can play the downloaded music on other devices without limitation. The most important feature is that you don't need a premium account to get started, meaning you can download millions of tracks from Spotity in this amazing app. Available in a free version, this Spotify music downloader offers 5X downloading speed and a lot of output formats, like MP3, WAV, FLAC.
Below is a complete tutorial to show you how to download Spotify music to Mac without Spotify premium account. Make sure read the each step carefully to avoid any confusion or failure.
Step 1: Download Spotify Music Downloader on your Mac and run the app after installation. In this case, there is no need to install Spotify on this Mac..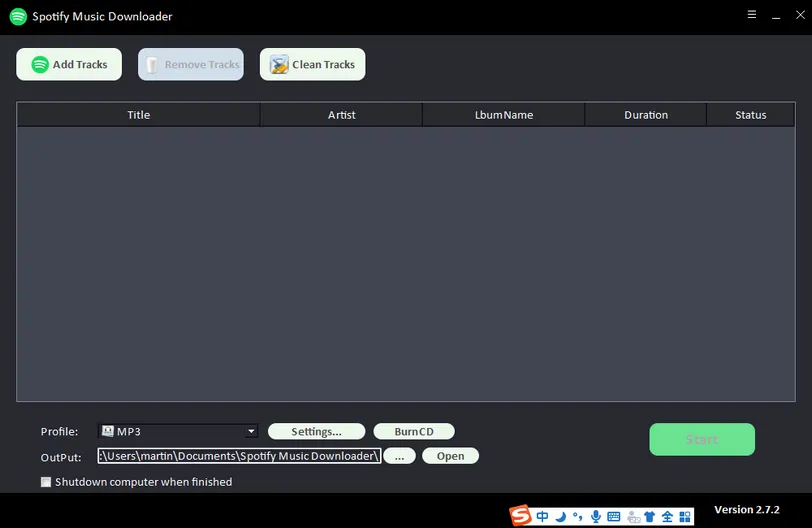 Step 2: Open Spotify Web Player and find the URL of target song or playlist, which can be found via the Share option. In our example, we get the playlist url via Copy link to playlist menu.

Step 3: Click "Add Tracks" button and paste Spotify song or playlist URL into the field. Now the app starts to parse the link you just pasted in. A few seconds later, all songs information (Title, Artist, Album, Duration) will be displayed on the screen. After adding all the files that you want to download, hit 'OK'. You can change the output settings by clicking on the 'Profile' icon from the top right corner of the window.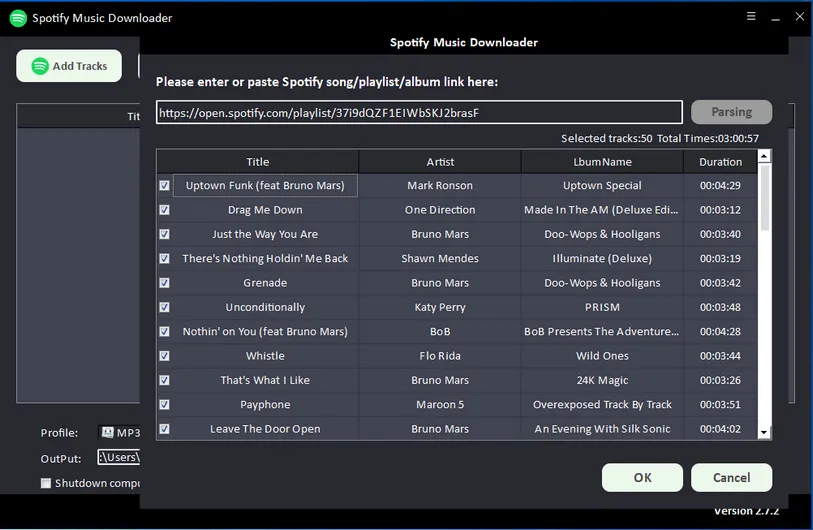 Step 4: Tap on the 'Start' button to begin the download process. It will convert all downloaded songs in target format after download (MP3 by default). Wait for the task to be done and the output folder will be opened automatically once it is finished.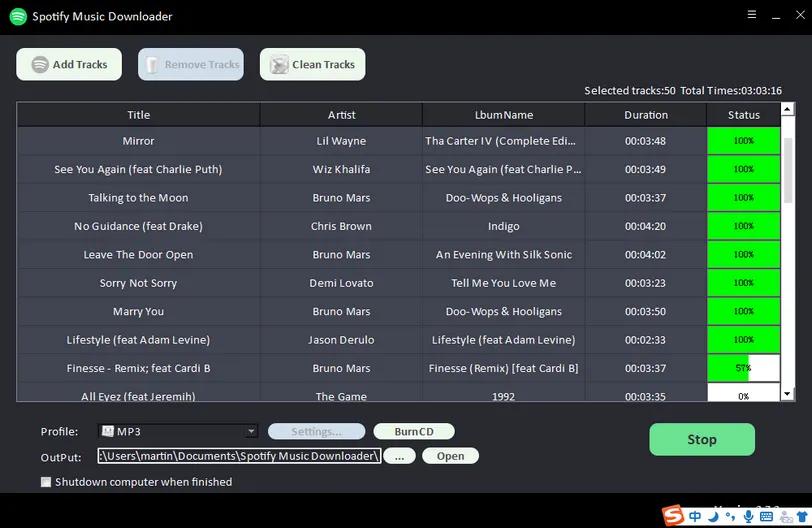 Spotify Music Downloader is a superb app to download Spotify music to Mac. You don't need to spend a single penny in order to pay for a premium service. And the modern user interface makes it extremely easy to use. It is the best solution to download Spotify music to Mac.
Download Spotify Music to Mac #3: AllToMP3
AllToMP3 is a free software that downloads Spotify music on not just Mac but is compatible with other OS platforms as well. It is a desktop app that comes with an excellent user interface. You can use this app to download music from Spotify, SoundCloud and YouTube. It also comes with a command-line interface so you can dowload the Spotify playlist or music in batch.
Step 1. Download the AllToMP3 Mac version and launch AllToMP3 app on Mac after the completion of installation process.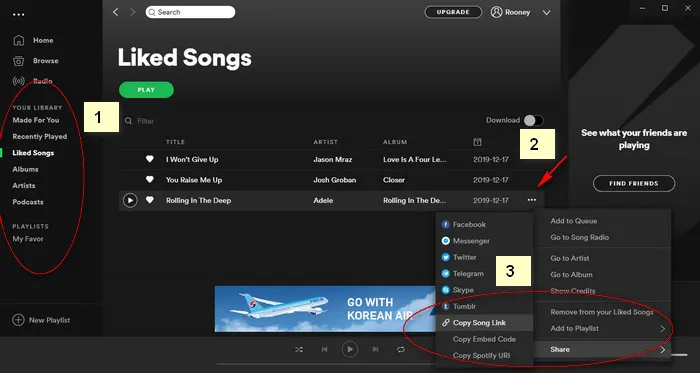 Step 2. Now open Spotify and copy the link of the playlist or song you want to download. Go to AllToMP3 and paste the link on the search bar. Now, AllToMP3 app will starts to analyze the content contained in that link.
Step 3. Don't forget to hit Enter to start downloading Spotify songs to MP3. You will be able to find the downloaded Spotify music in your music folder.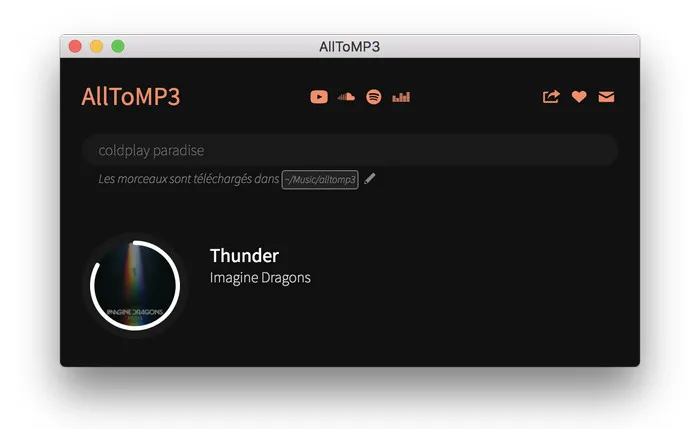 While the method is super easy to download Spotify music to Mac, there are a few issues with AllToMp3. Firstly, the size of the software is way too large in comparison with the other Spotify downloading tools and secondly, there have been reports of compromised quality, downloading errors and also the tool not working on latest macOS Catalina reported by online users.
Download Spotify Music to Mac #4: TunePat Spotify Music Downlaoder
TunePat Spotify Music Downlaoder is another versatile music tool that allows downloading and converting Spotify songs to Mac with fast speed. It is built with a beautifu UI and no need to install Spotify app on Mac. It acts a Spotify web player and record the Spotify music at background. So the output quality is compromised a bit with TunePat app. Desipte this fact, it is one of the best apps to download Spotify music on Mac without limitations.
Step 1. Visit the official website and download the Mac version of TunaPat Spotify Music Downlaoder. And then Install the application after the downloading process is completed.
Step 2. Open the app and select the desired output format for the Spotify music file. Search for the playlist/songs that you want to download from Spotify. Click on the blue 'Add' button floating on the bottom right of the screen. TunePat will automatically read all the songs and add them to the list.
Step 3. Now check the boxes of the songs that you would want to convert and download. Hit 'Convert' button at the bottom of the window to start the download process.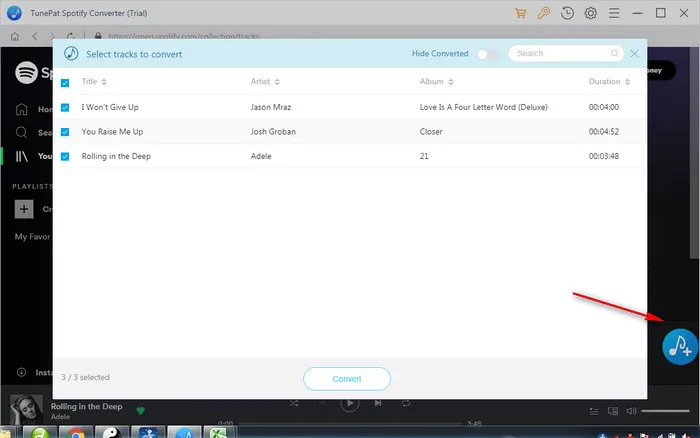 However, TunePat Spotify Music Downlaoder is a paid tool and only allows you to download the first 3 minutes of Spotify song within the free trial. If you want to download hundreds of songs from Spotify, then this is not a bad choice as the premium version only costs 39.95 USD, which is much cheaper than Spotify Premium plan.
Conclusion
Amongst all the mentioned methods, Spotify Music Downloader is our favorite choice to download Spotify music to Mac. The download is completely free and you have a number of options for output formats. The more it supports, the more the music can be played on other devices. Also the downloading speed is much faster than TunePat and AllToMP3. That's why makes it our recommendation from the list.
Related Articles:
How to Download Spotify Playlist to MP3
Best Spotify Playlist Downloader in 2022
How to Download Music from Spotify without Premium
How to Transfer Spotify Playlist to Apple Music
How to Download Spotify Music to MP3