Over the last few years, Spotify has become one of the most popular online music streaming app that gives you access to millions of songs from its huge database. Some of us want to download Spotify songs on Android phone as it gives us the liberty to listen to our favorite tracks when there is no Internet access or the bandwidth is too low to stream online music. Apart from that some of us like to download these songs for gifting purposes to our loved ones. Below mentioned are three software through which you can download Spotify music on Android phone.
Method 1: Download Spotify Music to Android Phone Using Native App
One of the most important reasons why Spotify being used widely is that you can use Spotify on multiple devices, including Windows PC, Mac, iPhone and of course thoese Android devices. Spotify Android app is totally free and you can download it from Play Store. And there is built-in download option with Spotify Android app. Hence, this is the easiest method to download Spotify music to Android phone; but on the flip side, you have to buy a subscription plan ($9.99/month) to enable download feature on Android phone.
Step 1. After you have subscribed to Spotify Premium and downloaded Spotify Android app on Android phone, install and launch it. You can do that by tapping on the app icon. Now browse to the song that you want to download to Android phone.
Step 2. Besides the track, you will find three dots. Tap on that and you will find the "save" option. Select that.
Step 3. Now go to the "Your library" section at the bottom right. Over there you will find a "Download" tab. Simply turn it on to download Spotify songs to Android phone. That's it, the song will download within a few minutes depending on your Internet connection. You can now listen to it in the offline mood by simply tapping on it.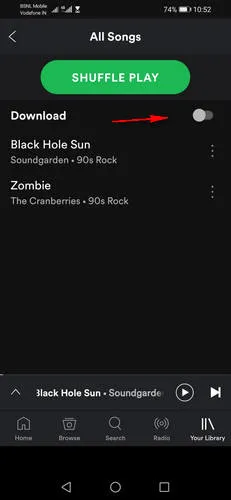 Be warned! You have to subscribe to Spotify Premium plan to use this download feature. And You won't be able to listen to these songs through other music players as these songs are DRM protected and use Ogg Vorbis format which is not supported by other music players apart from Spotify. So if you want to download Spotify music without premium or remove the protection, then the following two methods are great for that.
Method 2: Download Spotify Music to Android Phone Using TunesBro Software
Spotify Musid Downloader is probably the best tool to download Spotify songs to Android phone as it is packed with many features like downloading and converting the songs to other media formats like MP3,FLAC, AAC or WAX, which are supported by all the media players. It also removes the DRM restrictions from the tracks while retaining the quality of the song. Within minutes you can download the playlist from Spotify and can transfer these downloaded songs to Android phone with a USB cable.
Step 1. Preparation
Install and run Spotify Music Downloader on your computer. This software will open the Spotify app simultaneously when it is launched. Next look for the "Add Tracks " tab or drag and drop the songs that you want to download onto the TunesBro UI window. Click on the "Convert" tab to convert the format of the songs.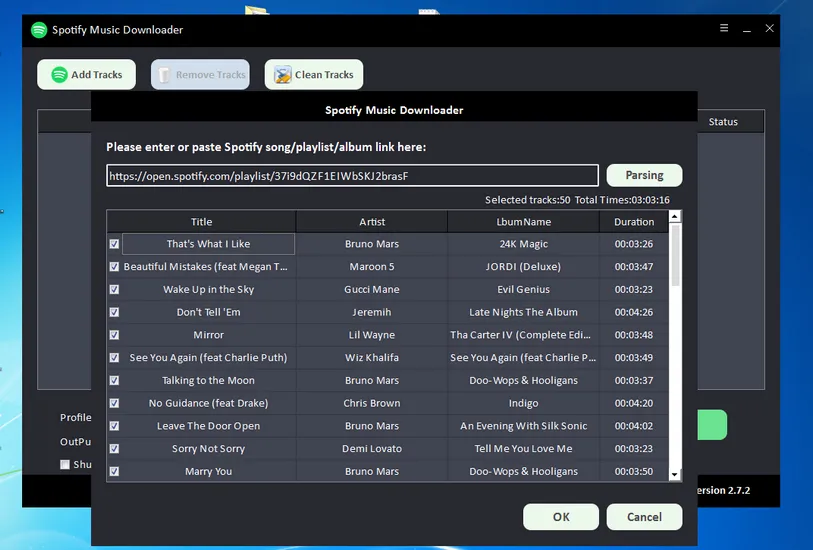 Step 2. Select Output Format
Now head for the "Settings" tab to customize parameters like Output Quality, Output format, and Conversion speed. You can also customize the download folder according to your choice .Change the song's name or organize the songs according to track name or artist's name.
Step 3. Start Downloading
Now that you have selected and customized the tracks, its time to download them to your computer. Simply click on the "Start" tab to let Spotify Music Downloader remove the DRM restrictions and download them on computer according to the format that you have chosen. For Android, it is best to keep the song format to MP3. The songs will be downloaded to MP3 on preferred output folder.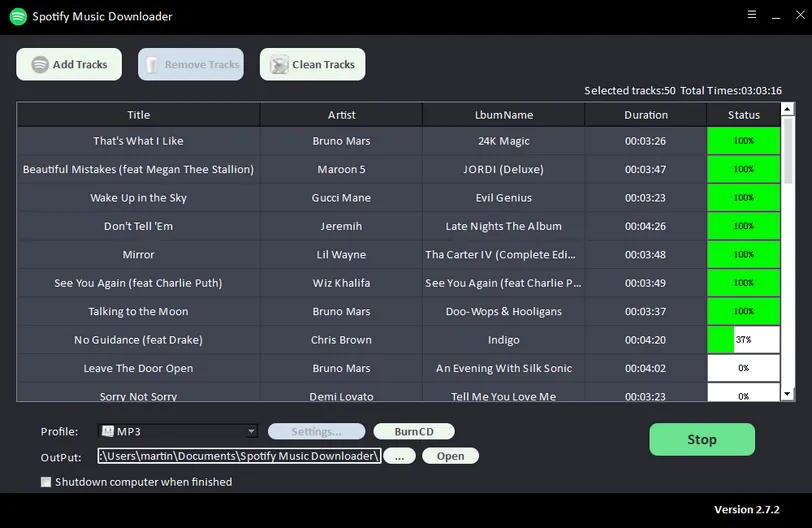 Step 4. Transfer Downloaded Music to Android Phone
Switch to the program main user interface and click 'Converted' tab, where you can see all the downlaoded music from Spotify. Now, click on the folder icon to open the downlaod folder. After that, connect Android phone to computer with USB cable and copy-paste Spotify music to music folder on Android phone.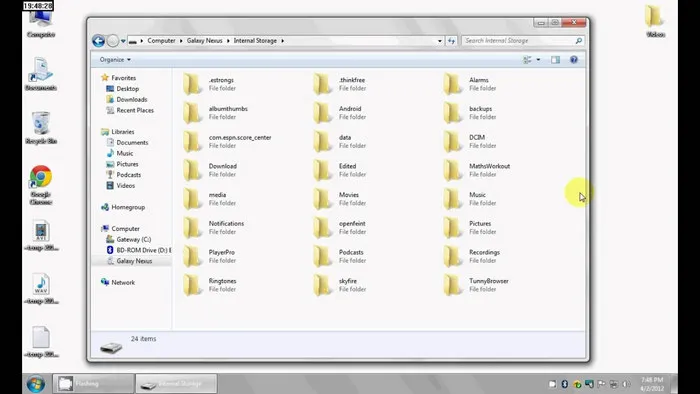 Besides Spotify songs, this program is also able to download Spotify playlist to MP3. So you can access to a large library downlaoded from Spotify. Most importantly, you don't need a premium to download Spotify songs or playlist and it lets you download favorite Spotify songs without compromising the quality. People love it because of its swiftness and fast conversion rate. It doesn't take too much space and doesn't use much memory.
Method 3: Download Spotify Music to Android Phone Using TunePat
For Windows user, Method 2 is the best choice all the times. However, TunePat is much better option when it comes to downloading songs from Spotify on Mac, which is much different from Windows OS. This app can easily download and convert Spotify music according to preferred output format without the need of premium account. And the download speed is bleeding fast as it has a powerful parsing engine for the Spotify music link to be downloaded.
Step 1. Download and launch the TunePat software on your computer. Go to the "Settings" tab at the bottom right corner. You can choose the format from MP3, AAC, WAV or FLAC. For downloading them to Android keep the format to MP3.
Step 2. Open the Spotify app and select the songs then click on the "Add" tab to import them to TunePat. You can also drag and drop the songs on the TunePat window.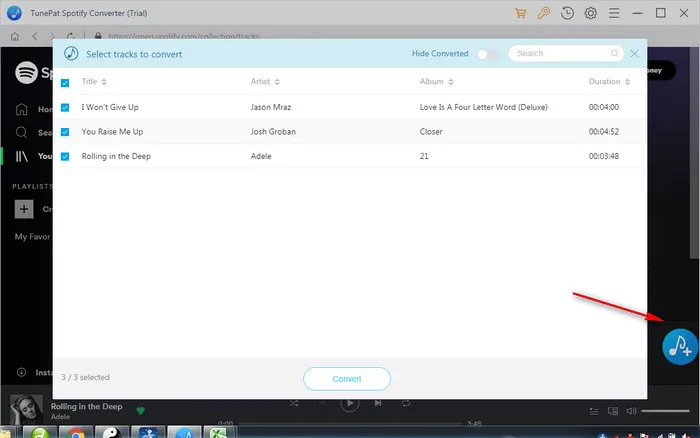 Step 3. After you have selected the songs, click on the "Convert" tab to start the download. The downloaded files can be found by clicking on the "History" tab at the bottom right corner or you can go to the folder that you have chosen as your output folder to access the tracks. After download, simply transfer them to Android phone with USB cable.
TunePat is an useful software as it gives you a lot of customized options to choose from like the song format and output folder customization but I found that the quality of the tracks are not maintained at its best after the conversion. Besides the software uses too much memory, which can slow down the conversion and the download process.
Summary
You can try all the methods mentioned above to download Spotify music to Android phone but when it comes to quality retention and speed, Spotify Music Downloader is the clear winner. Besides this software has got a very user friendly and swift interface which can be used by people who don't like complex procedures. So the next time you want to download your favorite Spotify music, give this a go and you won't be disappointed.
Related Articles:
How to Download Spotify Playlist to MP3
Best Spotify Playlist Downloader in 2022
How to Download Music from Spotify without Premium
How to Transfer Spotify Playlist to Apple Music
How to Download Spotify Music to MP3